Drilling and Hole Punching Services
Milwaukee Paper Cutting and Drilling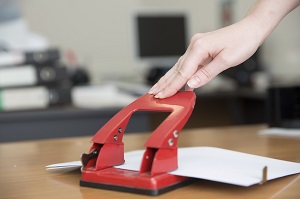 Many of our clients utilize paper drilling to add round holes to large quantities of paper. Ries Graphics calls this type of finish paper drilling (or 3-hole punching) and is one the services offered in our finishing department. We provide paper, cardstock and other material drilling for any professional printing project large or small.
Ries Graphics has the ability to punch one, two, or three holes per piece of paper with the capabilities to position and size more than three-hole punches if needed. We also have industry-leading equipment to drill holes through large stacks of paper quickly while processing your order. Our drilling service quickly creates the holes and is more efficient than using a paper puncher by hand. By changing minutes into seconds to finish an order, we save you time and most importantly, money.
Commercial Printing and Hole Punching Finishing Services
Ries Graphics can run small and large scale commercial print orders with high-quality finishing services like hole punching. With digital printers for small-scale print orders and offset printing presses capable of running a quarter million press sheets in just 50 hours, we can handle any job you throw at us.
Available Holes Sizes at Ries Graphics:
1/8"
3/16'
¼"
5/16"
3/8"
½"
We have various diameter drill bits to complete any size printing project. Ries Graphics paper drilling services are perfected to even produce manuals or reports needed to be put into ring binders.
Sample Products for Drilling and Hole Punching
If you have sat in a conference room and spent hours three-hole punching to prepare for a meeting, conference or presentation, you know how long it can take to put together. Let Ries Graphics save you time and money so you can focus on more important parts of your business.

For paper drilling and three-hole punching, contact Milwaukee's leader in professional printing and finishing for a free quote.