Plastic Coil Binding
Spiral Binding Services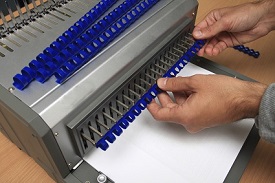 Sometimes a printed material requires a special finish to complete the look and functionality of it. Ries Graphics offers plastic coil binding services for a variety of publication needs. This finishing service provides a clean finished look while offering a flexibility of use. With the ability to open completely flat, a spiral bound product can make use of every page efficiently.
Commercial Printing and Plastic Coil Binding Services
Ries Graphics has the printing and finishing technology to handle your commercial print marketing needs. Digital printers can run small jobs at low prices, and our state-of-the-art offset printing presses can print a quarter million press sheets in 50 hours flat. All services are performed in-house from start to finish.
Spiral Binding Offers:
A professional look – with various coil options, you can transform an ordinary catalog, booklet or publication of choice into a professional, upscale piece of material.
Durability – coil binding is one of our stronger binding applications helping to protect your materials resisting against damage.
Flexibility – coil binding makes for an ideal option for most businesses due to its custom options. With various colors and sizes to choose from, businesses can match their materials to their company's branding.
Ease of Use – spiral coils allow for an extended ease of use with the flexibility in movement the coils provide. The 360-degree rotation allows easier access to every page.
Ries Graphics offers affordable printing solutions to meet all of your needs. Whether it's binding services, shrink wrapping or mailing services, our printing specialists will make certain all your needs are met, in an affordable and timely manner.

For spiral binding services, contact Milwaukee's top printing company today for a free quote.