Catalog Printing Company for Quality Services On-Time and On-Budget
Print Quality. Print Quickly. Print with Ries Graphics.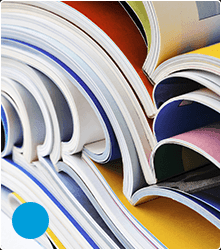 The quality of your print catalog says a lot about your business. The design, the ink, and the paper itself all matter. Your prospects will decide if you seem like a trustworthy Fortune 500 company or a back-alley business held together with duct tape simply by the looks of your print marketing materials.
Ries Graphics considers every factor in making your business look and perform its best, including your budget. Our goal is to maximize your return on investment. With Ries Graphics, you can count on sharp images, vibrant colors and quick turnaround--at affordable prices.

Service and Standards Set Ries Graphics Apart From the Rest
With our arsenal of high-technology pre-press equipment, versatile printing presses and extensive paper binding and finishing options (including custom sizing, return envelopes, scoring and perforation), you WILL get the best catalog for your budget. Our G7 Master certification means you get the highest quality, most consistent printing for a better catalog at better rates.
If you're not familiar with catalog printing, there are dozens of decisions to be made. We're here to help. Having an expert guide you through decisions like choosing inks, coatings, paper options, binding options, and book/booklet size will lead you to best value at the lowest cost. Your printed catalog will convey the quality and professionalism of your business, greatly increasing the conversion rates of your prospects.
Whether you need something to wow the crowd at tradeshows, or want eye-catching mailers, Ries Graphics has you covered. If you're looking for U.S. mailing and distribution services, or direct mail marketing assistance, look to us. In business since 1916, Ries Graphics has an ever growing network of printing, publishing and marketing resources. Whether it's handling the mailing ourselves or advising you on your best course of action, our business is doing right by your business.
Catalog Printing with Real Deadlines and Real Prices
While many printers will underquote a job and then nickel and dime you with add-on fees, we understand the agreed upon price and delivery date is often the primary basis for doing business with us. Our goal is to form a lasting working relationship with you. It starts with total transparency and ends with ensuring all your expectations are met.
For all your catalog printing needs, from mini booklets to oversized catalogs, Ries Graphics is standing by to help.

Get your catalog printing price quote free from the catalog printing experts at Ries Graphics today.