Restaurant Menu Guide from Milwaukee's Top Printing Company
Best Looking Menus for Me n' U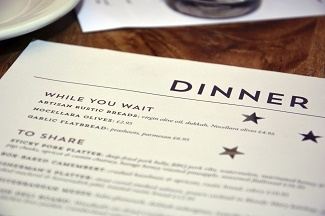 You need an easy, efficient way to tell everyone about the delicious food served at your restaurant. Your menu is like a meal for the eyes, and it must be just as presentable as any platter you serve. The layout of your menu should engage diners and keep them coming back for more.
Always position appetizers at the start of your menu and leave desserts at the end. Most restaurant patrons will select food in the order they plan to eat. Use columns to keep entries in order and organize food further by type. From this basic setup, there are many options to personalize your menus for maximum effect.
Start with Appetizers and Images
Food menu printing requires more than just text on a page. Whet the appetite with succulent images of your trademark dishes. High quality, colored images will let even the pickiest eaters see what you have to offer. The better the photo, the more appealing your food will be to your patrons. Make sure to use a high quality camera to get better images.
Selecting a theme for your menus will also add to the overall atmosphere of your establishment. Ries Graphics is able to print utilizing a variety of different formats, finishes, fonts and paper allowing you complete control over the final appearance of your professionally printed menus.

Size Up the Main Course with Menu Publishers
Though it might not seem important, the scale of your menu reflects on your establishment. A small menu, though convenient, may be difficult for some patrons to read while large menus are difficult to handle. Ries Graphics Milwaukee restaurant menu printing experts will work with you to decide on the best menu design for your restaurant's needs.
Menus meant for children should also be taken into account when selecting a layout and size. It's common for kid's menus to contain activities for a fun way to get younger diners interested in their meal. Getting take-home menus for children is another menu printing service offered by Ries Graphics.
Don't Forget Dessert and Drinks!
Depending on your restaurant, separate menus for desserts and drinks may be required. This keeps tables from being too cluttered with full menus and adds an air of elegance to the dining experience. Printing multiple, matching menus is easy at Ries Graphics.
New Additions to Your Menu Layout
If your restaurant is expanding, new menus are an important way to reflect your new dishes. They should be placed near the top of the page to emphasize their importance and make them attractive to diners.
More and more restaurants are taking nutritional information with printed menus. Including these in the footnotes will reassure patrons of the health benefits of their meal without distracting them from the more succulent descriptions in the main menu section.

Contact Milwaukee's #1 printing company for a free quote to print your restaurant menu layout today.