Direct Mail Printing
Quality Direct Mailers Lead to More Sales at Less Cost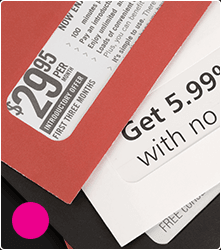 Many companies experiment with self mailers for business-to-business or business-to-consumers. Whether engaging in an every-door campaign or a targeted mailing list (uniquely tailored to each recipient), the quality of the print and the cost of the project are going to be your biggest factors in deciding who to partner with.

Ries Graphics utilizes state-of-the-art offset and digital printing technology to offer competitive prices on direct mailers. Our offset printing machines allow for low cost, high volume prints while our digital printers add unprecedented customizability for targeted campaigns.
Better Envelopes. Better Flyers and Inserts.
Better print marketing starts with better colors and better materials. Sending run of the mill plain mailers will result in "junk mail" status, with your intended target throwing your mailer away. Ries Graphics prints quality direct mailers which will get noticed at an affordable price.
Direct mail marketing is a numbers game. Effective mailing campaigns are an investment paying for themselves. When better printing services make your campaign more effective, the results justify making the investment again and again.
Direct Mailer Printing Service from Milwaukee to Anywhere
Ries has been working with all kinds of businesses in need of print marketing for generations. Whatever your mass-mailer printing needs, we've got the best equipment for the job. Call or visit us at our Wisconsin printing headquarters for more information.
Direct Mailing Options:
Mailer Advertising Print Company Ries Graphics
When sending out direct mailers, getting a solid return on investment and receiving quality service is your top priority. Ries Graphics will help you succeed. We work with trusted partners to handle all mailing, saving you the headache of navigating post office limitations. Our quality prints, quick turnaround, and low cost printing services are the best in the Midwest.
Direct Printing and Mailing Services
Lowering your costs doesn't have to mean putting a poorly printed postcard or coupon book in front of a potential customers. They want to know you take their intelligence and time seriously. Ries Graphics delivers industry leading printing services which fit the budgets of any sized business. From fortune 500 companies to small mom & pop stores, you'll see why companies trust Ries Graphics with their printing needs.

Submit your direct mail marketing specifications online to receive your free quote from the Butler, WI located printing company.