Perfect Binding
Perfect Binding Finish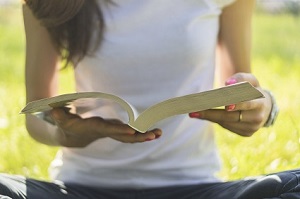 Perfect binding is a type of finishing process which binds sheets together by using glue. This process is typically used for soft-covered items like paperback books, magazines, telephone books and more. Perfect binding offers the perfect way to finish your printed materials in a very professional manner ideal for commercial use. Perfect binding is a durable, low-cost packaging solution for any thicker printed material in which saddle stitching cannot accommodate. The method holds pages together by applying glue to the spine of the gathered pages.
When determining between perfect binding and saddle stitching, it's important to consider the thickness and durability when you choose a binding type. Perfect Binding is typically used for larger paged publications which tend to weigh more, needing more support.
If your project consists of more than 40 pages, perfect binding is your best option. For thicker publications, a paperboard cover is attached to the binding adhesive. Perfect bound products have a rectangular backbone. To ensure the glue firmly holds the pages securely, the spine is ground leaving a rough edge and creating an improved application for the adhesive.

Commercial Printing and Perfect Binding Finishing Services
With digital printing machines to handle small jobs and state of the art offset printers for high volume commercial prints, Ries Graphics can solve all your print marketing needs. From start to a perfect bound finish, you can trust Ries Graphics to handle your commercial printing and finishing requests.
Common Perfect Binding Applications
Let Ries Graphics handle all of your printing needs from concept through to your finishing needs. With consistent high-quality results, you can expect nothing but professionally printed materials when you need them and at an affordable cost.
For perfect binding services, contact Milwaukee's top printing company today for a free quote.