Event Program Designs to Enlighten Guests
Wedding and Funeral Program Printing Services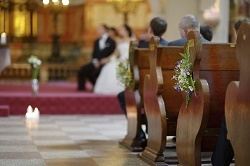 Whether you're planning a wedding or a funeral, we will take care of all your printing needs. Programs add that extra special touch to any event, while keeping the audience completely informed along the way. Ries Graphics prints high quality event programs, impressing any client that walks through our door. Have a special design in mind? No problem. Our digital and offset printing specialists will replicate it precisely working with you every step of the way to perfect your ideal paper program. We have an extensive array of colors, sizes and templates to choose from. There are no boundaries for your event program design.
Printing Press for any Gathering
Programs are used for any occasion imaginable, including:
Weddings
Musical performances
Graduations
Religious ceremonies
Funerals/Memorials
Awards ceremonies
Plays
Recitals
Fold it any Which Way
Programs come in several different folding variations, depending on how you want it to look. Be careful about the design you choose and how it will look with the fold. Program folds give your guests access to information on the paper, so don't make it too complicated. When deciding on program layout and design, make it flow.
Types of program folds include:
Tri-fold
Z fold/accordion fold
Open gate fold
Closed gate fold
Half fold
Quarter fold
4 panel fold double parallel
Ries Graphics prints custom made programs for any event or occasion. Whether you have a large or small event, rely on Ries Graphics for your program printing needs.

For wedding or funeral program printing services, contact Milwaukee's leading printing company today for a free quote.