Invitation Printing for Any Occasion
Wow your Guests with Ries Graphics Invitations
Hosting an office party, surprise birthday, or baby shower? The invitation should be the first thing on your list of things to do. It should grab your guests' attention, getting them excited about the upcoming event. Ries Graphics' invitation printing services make it possible, creating the invitation everyone will want to receive, while giving you peace of mind. Whether you're hosting an evening soiree or a casual outdoor barbecue, let us cross the task off your list.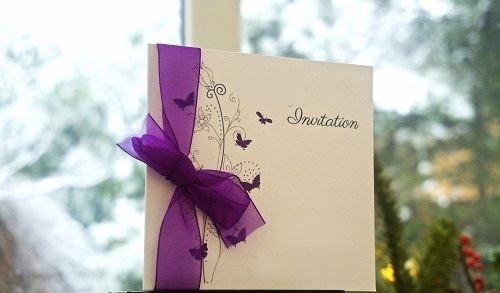 Ries Graphics creates custom invitations for many events, such as:
Weddings
Anniversary parties
Corporate events
Award ceremonies
Birthdays
Bachelor/Bachelorette parties
Graduation celebrations
Baby/Bridal showers
Office gatherings
Religious ceremonies
Holiday parties
Create the Perfect Invitation
Before you send it our way, be sure to incorporate all the needed information on the invite, clearly communicating with your guests.
Make it simple, including everything they need to know:
WHO: Let guests know who is hosting and/or who the party is celebrating. Also, who is allowed at the party? Some work events might only allow employees and immediate family members while many weddings are going "child-free". Make it clear from the invitation who is and isn't welcome at your event.
WHY: Inform guests why there is an event. Some, like birthday or wedding invitations, are self-explanatory. Others, like an award ceremony or corporate party, might need some details to help guests get a feel for what to expect. Will the event be formal or more casual? If there is a particular theme, let them know so they may plan in advance. With Ries Graphics, we will incorporate the theme into the invite design.
WHEN: Be clear about the date and time, including the day of the week. Guests shouldn't have a reason to be confused.
WHERE: Next, include the location of your party. Including directions with your invitations is a great way to ensure everyone arrives at the correct location. Try to take into account potential obstructions, such as construction.
WHAT: If your event requires guests to bring additional items, inform them ahead of time. A beach party won't be very successful if no one brings their swimsuits. You should let guests know whether there will be food and what sort of menu to expect, especially if anyone on your invite list has allergies.
RSVP: Finally, provide your contact information for guests to let you know if they're attending. Getting a head count is never a bad thing and will even save money as you are able to reduce the number of chairs or food in advance.
A custom invitation is a way to go above and beyond when planning a special event. Our invitation printing experts do more than just replicate your design. Our varying color choices, paper textures, and size options come together in perfecting every last detail. Ries Graphics' high quality ink and varying paper finishes complete the job, leaving our professional mark and a guaranteed smile on your face.

Contact our invitation printing specialists at Ries Graphics today to start planning your next event.