Ries Graphics Achieves G7 Master Certification
Consistent, Quality Color from Proof to Press
A result of extensive testing and calibration of our digital proofers and presses, this certification demonstrates our commitment to consistent, quality printing. A G7 certification allows all our clients to be confident every printed item they receive from us will be of the highest quality, and consistent to the unique specifications of the job.

G7 Certification Process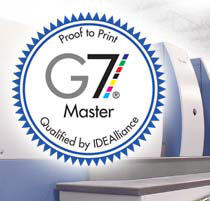 The G7 standard was developed by IDEAlliance to help printers achieve the goal of consistent printing. The G stands for the gray scale values the printer creates, while the 7 stands for the 7 primary colors in the printing standard. G7 uses the principle of colorimetry, which measure visual 'appearance' and LaB values instead of dot percentages and ink density. In other words, it brings photographic principals to the press. G7 Certification also leads to:
Reduce operations cost
Lower pricing
Increased speed from document to print
Well-Managed workflow
G7 Standards Create Quality Prints Every Time
Using existing ISO standards for printing and printing inks, G7 specifies components of an image which define a similar 'look' (or visual appearance) to the human eye by:
Specifying a measurable, colorimetric definition for gray balance
Using gray balance in mid-tones, along with image weight and contrast from highlights and shadows, as the determining factors in the likeness of the visual appearance of an image
Defining measurable black and CMY gray-tone curves for an image
Specifying the method for calibrating proofs and presses for those curves
The old procedure of reading dot and density on a press sheet was inaccurate due to differences in presses, inks, paper and other variables. With G7, when you keep certain values constant (like ink and paper), you can read LaB values from any G7-capable output device and after calibration, expect predictable and consistent results.
G7 Certified Wisconsin Printing Services
G7 certified means higher print quality. You'll notice improved consistency between digital proofs and printed results, across each job we complete. G7 Certification is device independent, no matter if you need catalog printing, direct coupon mailers, or any other service - our prints will come out looking fantastic every time.
Get a free printing quote today from one of our trained printing experts and find out the best option for your budget.