Wisconsin Flyer and Leaflet Printing
Flyers and Leaflet Printing Services Fit Any Budget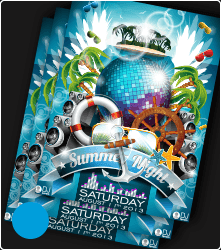 Printed fliers and leaflets help promote your business professionally. We offer an array of size, color and paper options to fit your needs. Milwaukee area companies trust Ries Graphics' 100 years of printing experience to get their fliers and leaflets printed professionally and efficiently.

Commercial Flyer Printing from Ries Graphics Draw Attention
Flyers are cost-effective ways to advertise your business, event or show. Vibrant colors, sharp graphics and quality paper stock all make a tremendous difference. Need quality color flyers for your Wisconsin business? Ries Graphics handles printing for retailers and commercial printing for manufacturers, ensuring our clients stand out from the crowd.
Our Bulk Leaflet Printing Services are a Cut Above
Leaflets are also a great way to reach out your customers. Printed on our high quality paper with a professional design, our leaflets leave a great impression. Available in cost-effective options to fit your budget, Ries Graphics works with you to get the job done. Our leaflets can help promote your business or upcoming show with style.
Flyers or Leaflets: What should you use?
Often used interchangeably, there is a difference between flyers and leaflets. Flyers are usually printed on a standard, unfolded 8 1/2" by 11" piece of paper. Leaflets use higher grade paper and are generally folded to make use of multiple panels. Unsure which your project needs? Contact us and we can help point you in the right direction.