Folder Printing Company
Professional Quality, Cost-Effective Materials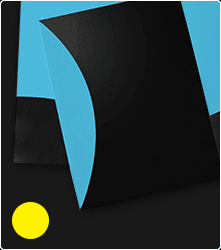 Professionally printed pocket folders are a great way to show your clients, customers, or co-workers you mean business. Our state of the art printing machines can print any custom job you want on pocket folders. Choose between glossy and matte, along with A3, A4, A5, A6 or a custom style piece to your specifications.
Step up from run of the mill folders and add a personal touch admired by clients and coworkers alike. Whether you're handing them out to clients with contact information within or sharing with your peers at a training session, professionally printed pocket folders are a great way to stay organized while networking.

Booklet Divider Printing
We'll help you plan out and organize your print project to the precise requirements of your application. A plain booklet divider is a missed opportunity for many businesses. Page dividers provide a simple way to systematize your material into logical sections. Whether you need custom-printed booklet dividers to insert yourself or custom-printed binders or books with dividers already installed, Ries Graphics will provide the best and most cost-effective printing solution to meet all your needs.
Folder Printing Options
Ries Graphics offers a wide range of sizes and styles to cover all your printing needs. We will do our best to match your needs to the best type of folders at the best value for you. Our accommodating sizes and styles will provide a perfect fit for whatever you plan to place inside.
Folder Printing Options
Measurements:
Pocket Count:
Paper Dimensions:
Finish:
Have important schematics that don't fit in traditional folders? Need custom sizes? Ask a Ries Graphics folder-printing professional about unique size options.
Need a lot of folders? Be as colorful or creative as you want and Ries Graphics will make it a reality. Contact Ries Graphics today for a free quote on your bulk needs.
What goes into a folder is important. Why not let the outside match?
Request a free pocket folder printing quote from Ries Graphics to start professionally representing your company today.