Quality Instruction Sheets Provided by Printing Professionals
Black and White or Full Color Instructional Sheet Printing Services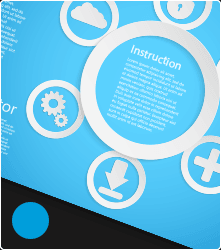 Whether you need a step by step "how to" instruction sheet for your employees, or an easily accessible manual of safety guidelines to navigate a hazardous situation, Ries Graphics has you covered. With our G7 Certification, wide selection of printing machines, and decades of experience, every instructional sheet will look crisp and clean.
Regardless of printing with color, illustrations are a key component to instruction sheets. A simple graphic can make the instructions visually clear or give a quick clarification at a glance to a hurried professional. Whether it's colored or black and white illustrations, Ries Graphics will ensure your printed instruction sheets meet your highest expectations and are visually readable to your preference.

Colorful Instructions
Bright and bold colors are the best way to grab people's attention and keep them engaged. From multi-colored prints to black and white designs printed on sturdy paper, our Milwaukee printing company has done it all.
Use our variety of colors to organize your instructions. Perhaps shades of red can be for fire safety while blue refers to operating the assembly line. A bright yellow instruction page is sure to be noticed before a regular white sheet. Don't let our instructions be ignored – be colorful!
Instruction Sheets Suitable for All Ages
If you're a teacher or a parent hoping to help out your child, instruction sheets are a valuable learning tool. Whether it's printed instructions on homework problems for an entire class, or detailed steps on daily tasks to post around your home, Ries Graphics will exceed your highest expectations. Kids with brightly colored and illustrated instruction sheets will be eager to learn.
If you need instruction pages printed in bulk for a school or business, turn to Ries Graphics for all your instruction sheet needs.

Request a free quote for instruction sheet printing services from Milwaukee's leading printing company Ries Graphics