Menu Printing Company
Better Looking Menus for Better Looking Food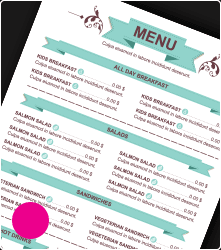 Creative, unique and custom printed menus are the best way to help your customers decide what to order and do a lot more than sate the appetite. A good menu will keep hungry patrons coming back. With restaurants requiring customer loyalty, the importance of a well-designed menu is hard to overlook.
Whether you need a professional, multi-folding menu or a simple double sided menu for takeout, Ries Graphics has the experience and capability to print eye-catching, appetizing menus with a variety of themes. Include nautical details for your seafood shanty or fun food for your franchise. Your menu shows more than your specials, it shows why your restaurant is special.

Delicious Delicacies
Customers typically decide what they want to eat based on how good it looks. Excellently printed photos of your food will whet the appetite of patrons in anticipation. Show off a full spread or a delectable dessert. With our selection of printing machines and quality ink, Ries Graphics is equipped with the materials to deliver high quality menus to your business at an affordable price.
Put your best food forward and have Ries Graphics print your menus today. With our durable paper stock and timelessly professional finishing options, you won't need to replace your menus until you change up your offerings. When the time to expand your collection comes, Ries Graphics will make it easy to modify your existing menu to accommodate your new items while ushering out the old.
Expand Your Appetite
Want to attract more patrons? Try printing bilingual menus or menus just for children. Become a tourist dining destination with a variety of menus in multiple languages.
Go beyond appetizers and desserts. Become a culinary curator with a masterfully designed menu to showcase your delicious foods.
Menu Printing for Restaurants
Ries Graphics has extensive experience in printing menus for restaurants large and small, far and near. With digital and offset printing capabilities, we can perform print runs in any quantity with the utmost highest quality and lowest prices.
Just like your cuisine and ambiance you create, a menu reflects the quality of your restaurant and gives your customers a lasting first impression. Menus should be easy to read and visually appealing.
Restaurant menus need to be strategized to bring in more revenue by enticing customers with clear and navigable selections. Let Ries Graphics help you choose the best menu format for your restaurant:
À La Carte Menus – this particular type of menu is when a restaurant offers separately priced items
Du Jour Menus – du jour menus include the dish of the day
Cycle Menus – common in cafeterias, cycle menus offer different foods every day and usually are repeated in days or weeks to follow
Prix Fixe Menu – usually seen in fine dining establishments, Prix Fixe menus offer a multi-course meal at a specific price
Table d'hôte – menus with a meal based on the price of the entrée
Beverage Menu – a separate menu which includes only the beverages offered and can be categorized into groups: spirits, wine and beer
Dessert Menu - a separate menu, usually smaller which includes only desserts offered
Wine Captain's Books – a professional, high-quality way to present your wine offerings and usually presented in a padded cover
Static Menu – a common type of menu for restaurants, static menus are categorized by groups and often laminated for easy cleaning
Menu Printing for Weddings
Get married? You're in luck! Ries Graphics does menu printing for weddings. With free quotes, affordable prices and quick turnaround times, you simply can't go wrong with having your wedding menus printed at Ries Graphics. Enjoy your time being engaged and let the experts from Ries Graphics handle all your wedding printing needs. Whether you have a design in mind or need help concepting one, our wedding print specialists will work with you the entire step of the way to ensure your needs are met and your visions come to life.
Request a free menu printing quote from Ries Graphics today.