Envelope Printing Services to Seal the Deal
Printing Company Gets Your Business or Event Noticed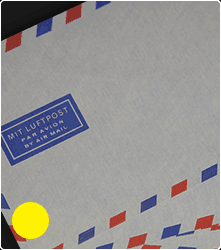 An envelope is the first impression your customers get of your company. A high quality, eye catching envelope is often the first impression your business makes on a prospective customer. Ries Graphics creates professional envelope prints to grab the attention of whoever lays their eyes on them.

Custom Business Envelope Printing
Ries Graphics will bring your envelope printing to life. Where a simple template isn't enough to get the job done, our envelopes will get the message across: the contents of this envelope are worth more, in message and material. We will also keep your costs down by getting you the most bang for your buck.
With our bold colors, high quality standards and quick turnaround time, your newly printed envelopes will be sure to grab people's attention. No matter the size of the envelope or design, Ries Graphics has the proper machinery to meet your print needs.
Envelope Printing Quantities from Small to Large
Depending on the scale of the job you need, different formats and printing options might be better for your campaigns. Contact us for a free quote and we'll help you figure out the details.
Envelope Printing Sizes
Some of the most popular envelope sizes include:
6 x 9 catalog
6 x 9 booklet
9 x 12 catalog
6 x 9 booklet
#10 regular(4-1/8 x 9-1/2)
#10 window (4-1/8 x 9-1/2)
6-1/4 remittance or collection (3-1/2 x 6-1/4)
6-3/4 remittance or collection (3-5/8 x 6-1/2)
#9 remittance or collection (3-7/8 x 8-7/8)
Custom Direct Mail Envelopes
Custom dimensions? Ask an envelope printing expert.
From a full bleed print to a professional banner printed across the top of the envelope, our staff can calibrate and set up our presses to bring your custom print to life. We have completed envelope printing jobs for companies, organizations, and events. From Madison, Milwaukee, and Chicago, to businesses on the other side of country, Ries Graphics proudly prints and sends your prints anywhere.
Envelope Printing Gets Opened
We print on standard business envelopes, windowed envelopes, and security envelopes among others. Mailing a sheet of paper to wider and thicker stock paper, our custom printing company has a machine to match your needs. Your printed envelope will stand out among the daily mail, people won't be able to help but open it and read what you have to say. After ordering your first shipment from Ries Graphics, you'll learn why so many others have instilled their trust in our company to deliver high quality envelope prints by the deadline.

Request your free quote from your envelope printer now to start sending out quality mailings while saving you money.