Postcard Printing Service
Helping you Resolve Your Need for Cost-Effective Printing and Mailing
Need a unique way to spread the word about your products or business that's attention-grabbing? Ries Graphics is equipped with everything a company needs to professionally create postcards for a wide variety of uses. Whether you need postcards for real estate or postcards for teaching, Ries Graphics will produce high-quality cards while matching your exact specifications. With a vast selection of printing machines, paper grades, and a G7 Certification, our professionals are standing by ready to help you make your postcard printing project a success.
We also offer a wide-range of print finishing jobs like UV coating for postcards to ensure your product is delivered in perfect condition maintaining the professionalism your business deserves. We'll do our job accurately and affordably so you can focus on your business.

Postcard Marketing for Business
Use postcards to break the ice before cold calling clients. Send out postcards at major holidays to remind customers you care. Heading to a trade show? A quick postcard will let partners know where to find your booth. Let a postcard serve as a business card which will stand out from the others.
Despite the fact that there are a variety of advertising tools businesses use, postcards continue to have many uses which make this form of marketing more viable than any other marketing campaign. Postcards are great for companies looking to establish their business. Postcard marketing is also highly effective for renowned businesses looking to promote a new product or event.
Postcard Size and Template
It's important for a business to select the right postcard size and template best suitable for their marketing goals. Postcards come in a variety of sizes and templates. You can choose from single or double sided, half or tri-folded and a landscape or portrait orientation. Ries Graphics will make your postcard marketing process simple. Our printing specialists will help determine the postcard design which best fits your plans and budget. With shorter print runs and numerous postcard templates to choose from along with our high-quality printing capabilities, Ries Graphics is your best choice for your printing needs. Years of serving local Milwaukee and Chicago businesses has helped us to successfully extend our services nationwide.
Postcard Sizes:
Standard postcard sizes are 4" x 6" or 5" x 7". As a full-service commercial printer Ries Graphics prints a wide variety of postcard sizes, including:
4" x 6"
4.25" x 6"
5" x 7"
5.5" x 8.5"
6" x 9"
5" x 11"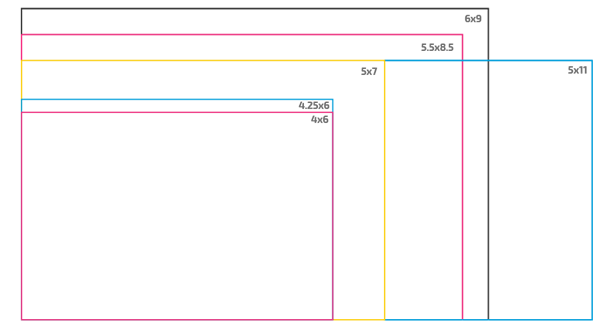 Postcards for Pleasure
Want to let your family know how your vacation was? Want thank you cards for a major life event? Create your own line of postcards using designs of your choosing. Postcards even work as "Save the date" or RSVP cards, reminding everyone of upcoming celebrations big and small.
Your Postcard, Your Photos
Add a personal touch to your postcards by using your own photos. Our high-quality ink won't run or blotch, unlike at-home printing methods. Stock paper will provide a sturdy backing for your postcards, keeping them from being damaged in the mail.
Double-Sided Postcards – Delivered Fast and with the Highest Quality
Daunted by the idea of filling out hundreds of postcards by hand? You can specify the message you want printed using our double sided postcard templates. A completely personal postcard will convey whatever message you want to send.
Once printed, one of our trained employees can provide you with delivery options for your postcards. Whether you want them shipped back to you, or out to different sites, our staff will help you find the best, option for your unique job.
Get a free postcard printing quote from the printing company businesses nationwide rely on.