Saddle Stitching
Saddle Stitch Printing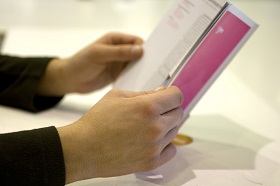 Saddle stitching is a type of binding method which actually stitches pages together with a metal wire. The overall appearance looks like staples down the spine of the source. Although there are many parts to the saddle-stitch binding process, it is a popular finishing method for booklets, catalogs and magazines due to its economic design.
There are many parts of the saddle-stitch binding process. A saddle stitching machine may vary from slow to high volume machines. For proper binding, the machine needs a stack of collated sheets, a saddle-stitch head and a spool of saddle stitch wire. Once the sheets get fed into the machine, it then jogs from top to bottom and left to right ensuring a neat and tight stack. The saddle-stitch heads then pull wire piercing through the stack of paper. Then descending, the heads allow one wire through, folds, cuts then pushes the other end in.
Saddle stitching is the common term used for stapling in the printing industry. The sheets are draped over a saddle-like machine during the process which gives it its name.
Saddle Stitching bindery occurs after the pages and cover have been printed. Common printed materials which use the saddle stitch finish include programs, calendars, booklets, newsletters, catalogs, direct mailers and smaller magazines.
Commercial Printing and Saddle Stitch Finishing Services
Ries Graphics handles every step of the commercial printing process. We can bring your print marketing materials to life using digital printers or even offset printing equipment for high volume jobs. The commercial printers at Ries Graphics control everything from start to finish.
Saddle Stitching vs. Perfect Binding
Customers often ask what the difference between a saddle stitch and a perfect bind is. Saddle stitching and perfect binding are the 2 most common type of printing finishes for multi-page products. In saddle stitching, multiple pages are bound together along the fold with 2 staples which creates the spine. A perfect bound booklet consists of a flat spine and adhered with glue.

For a saddle stitching finish on your next publication, contact Milwaukee's top printing company today.