Creating Proper Page Layouts to Send Online To a Printing Company
Instructions to Follow To Upload the Proper Printing Files to Ries Graphics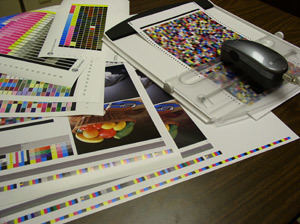 When printing for your company, business, or event, it's highly important to us we get every part correct. From our emailed proofs to our step by step instructions, we want your prints to exceed your expectations.
Spot Color Swatches in Process Color Jobs
Unless you are using spot colors in your job, please make sure they are saved as process colors (InDesign: change the swatch "Color Mode" to CMYK, then change "Color Type" from Spot to Process; Quark: in "Edit Colors," uncheck the "Spot Color" checkbox).

Auto Leading
Contrary to popular belief, "auto leading" is not the point size of the type plus one point, but an arbitrary percentage of the type size. Your document will look better (and you will have control over that look) if you avoid auto leading and set a specific leading value. Generally, type size plus one point looks best.
Bleeds
Don't forget to add bleeds! Anything you want to print to the edge of the page must extend past the edge by 1/8" (9 points), including photos.
Build Files to Trim Size
Files should be built to the trim (or finished) size, if at all possible. Our system will automatically add crop marks upon output.
Registration Color
If you need to add your own crop marks (for a special fold, for example), be sure to color them "registration." That way, they will print on all plates.
Quark, Wrap Arounds and Clipping Paths
If you are placing a blocked-out scan in Quark XPress and you want the background to be "none" (especially if you want the copy to wrap around the image), you must save the file as an EPS with clipping path. Placing a blocked-out image with a white background but no clipping path may appear without a background on screen, but will produce a square finish image upon output to film or plate, and will block out any copy that was behind it.
Items outside the Live Area
When adding a text box, rule, etc. to a Quark XPress page that needs to appear on the film or plate in the bleed area but not on the page, make sure the item touches the live page area.
Imbedded Graphics in PageMaker
Since there's still a few PageMaker users out there: please do not embed placed graphics in your document! If there is an output problem with the document that originates with an embedded graphic, there is (unfortunately) very little we can do to correct it.
Request a free printing quote or get help with page layout and file submission from Ries Graphics today.