Commercial Magazine & Periodical Printing Service
Wholesale Magazine & Periodical Printer in Wisconsin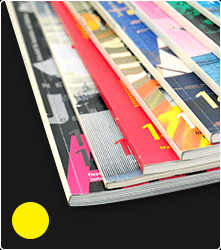 Commercial magazine printing services from Ries Graphics ensure better color and better quality prints. At Ries Graphics, we understand the importance of putting your best foot forward. Our eco-friendly commercial printing service has helped businesses do just that for over a century. Using a combination of advanced technology and elbow grease, all our printed material is high-quality and competitively priced, overseen and cared for by experts in magazine publication.
Periodical printing services from Ries Graphics include:
Newsletter Printing
Academic Journal Printing
Magazine Printing

Full-Service Bulk Magazine Printing
Our publishing professionals offer full-color service in digital and offset printing for everything and anything your business needs. From a distribution plan to finishing options, we're here to help. No run is too large or small—Ries can be counted on for each and every one.
Magazine finishing services include:
Dependable Magazine Printing
With our full-color printing service experienced in serving Midwest businesses from Milwaukee to Chicago and Madison to Green Bay, we'll help you actualize the magazine or booklet you envision. Ries Graphics we have been successfully printing magazines for decades and are looking forward to meeting your magazine and periodical printing needs.
When you need professional photographic printed magazines to promote your photography or you need your quarterly print run done, we'll help you get your message across with affordable, custom color magazine printing.
Make An Impression with Your Periodical
Periodicals are used in a vast amount of industries and when done professionally, can make a huge impression. Periodical usually get released and sent out on a regular schedule. Whether its quarterly, annually or biannually, Ries Graphics can be counted on for each and every run, small or large. Let Ries Graphics handle all your printing needs so you can focus on what's important, your business.
The Ries Graphic Printing Promise
Some printing companies treat deadlines as suggestions. Not us. Businesses across the country trust Ries Graphics because we make every deadline, every time. Once your files get into our hands, we're hard at work to get your materials back to you, with your specifications and schedule at the forefront of our process.