Calendar Printing Service
Calendar Printing Company Delivers Quality Daily (Weekly, Monthly, and Yearly)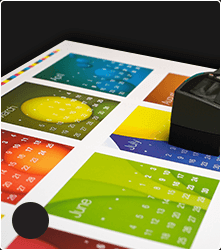 Desk, wallet and wall calendars for the home and office can be great business promotional materials. Handing out a calendar to a potential client at a trade show is more unique than a business card and much harder for someone to misplace or lose. Calendars make the perfect gift for appreciated customers, especially around the holidays. A calendar is a gift that'll last an entire year. With the right theme they can even be sold at a profit, perfect for office fundraisers.

Make the Year Brighter with Professionally Printed Calendars
Add a burst of color to a cubicle with vibrant calendar pages. With our G7 Certification, Ries Graphics guarantees the color in every picture will jump off the page. You can use any pictures you want, from exotic vacation destinations to candid scenes from around the office to adorable baby animals. Use your personal photos for a touching gift, inspirational quotes or fun trivia to inspire employees.
Calendars Help You Stay Organized
It's not just the photos that can be customized. Pick important company dates to have marked on the calendar. Add reminders for trade shows or company-wide retreats to make your office extra efficient.
There are also different ways to bind your calendar. Use coil binding for easy to turn pages or select stitched binding for a higher quality feel. Coil binding allows you to keep the pages from month to month, letting you look back at important dates whenever you feel like it. Stitched binding pages are ripped out at the end of the month, so make sure you're not throwing away anything important!
Along with our multiple binding options, you will find the perfect option to create the calendar you envisioned while not breaking the budget. Our Milwaukee printing services are second to none when it comes to quality and meeting deadlines.
Request a free calendar printing quote and start the process in creating a company calendar people will want to show off today.