Playbill Printing Company for Quality Service
Printed Programs and Playbills from Ries Graphics Steal the Show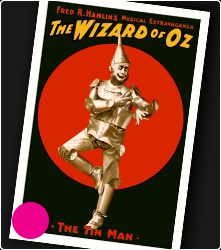 The lights are bright and the stage is set. The only thing missing is the perfect playbill to tie everything together. With our ability to achieve high quality colors, Ries Graphics stands alone as the top program and playbill printer for the Milwaukee and Chicago areas. You worked hard to use the perfect font, graphics, and pictures to go along with the event, don't settle for just any printing company. From custom wedding programs to large scale professional entertainment events, our experienced staff armed with high-technology equipment will create the look you want.

Playbill Printing Service
We bring Broadway quality playbills to you. With the hard work you put into creating the perfect play, having a perfect playbill printed will imbue your show with the legitimacy and professionalism it deserves. When people walk in and get handed a top-quality printed playbill you and your group created, they'll know they're in for a real show.
Come One, Come All
Playbills are a great way to feel a school play feel like a professional production. Kids will feel like movie stars when they see their name in print. Local theater groups can use playbills to spread the word about a new show opening and drive up attendance and ticket sales.
Playbills are suitable for:
School Plays (elementary through college)
Musical Theater
Community Theater
Church Programs
Concert Programs
Weddings
Birthday Parties
Religious Services
Contact us today to sign up for your own personal login information. Once you receive it, you can easily upload the files you want printed to our secure file drop site. From there we'll help you take it to the finish line, ensuring you receive your prints with a quick turnaround.