Directory Printing Service
Customers Find Quality Printing from Milwaukee's Ries Graphics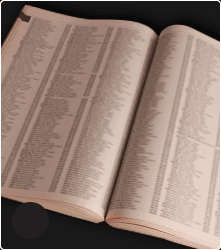 Directories contain a lot of important information, and many businesses have turned to online databases to store the same information found in a directory. Although this is helpful, printed directories are more professional and used more often. Having a physically printed directory available at all times becomes a more convenient resource for many. No matter the size you need printed, one of our in-house printing machines will meet your expectations. Whether you need a small directory printed for a local group, or a full-fledged phone book, Ries Graphics will help you choose and produce the best printed directory for your project.

Organize Your Info
Use a phone directory to have all your employees accessible, or create a business directory listing your manufacturers, partners and clients. You can also get your business in order with a client call list or record company contact info in one place. Whether you're listing phone numbers or sports teams, a directory is a convenient way to share information.
Binding Options for Directories
Whether two pages or two hundred, Ries Graphics can bind the pages together into an easy to use format. Use lighter stock paper to stop larger directories from becoming heavy. Keep literal tabs on clients and contact information alike.
Take your business to the next level with a professionally finished directory.