Coupon Printing Service Saves Your Company Money
Coupon Printer in Milwaukee Delivers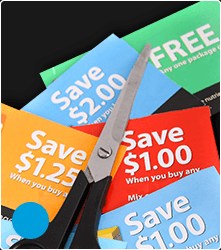 Here at Ries Graphics we hold ourselves accountable to the quality of every print. From offering you a step by step guide on how to send us the correct file types, to emailing you proofs of what the final piece will look like, we'll work with you to get everything perfect.
Whether you are printing a coupon insert flyer, perforated booklet or small catalog, we'll make sure your piece is printed precisely – and if you're not sure what you're looking for, we'll help you figure out the best format for your job.

Coupon Printing Services
From perforated coupons to inserts and booklet coupons, Ries Graphics does it all. With our experience printing all forms and styles of coupons, you'll be totally satisfied with the final product. Our staff is available to help every step of the way, and with our G7 Certification you can be assured your coupons will be printed to the highest standard. Whether this is your first foray into coupons or you're a seasoned retail veteran, Ries Graphics is here to help.

Get your free quote for coupon printing services now to see how much money you could be saving by ordering from Ries Graphics.