Unique Stationery Design from Wisconsin Printing Professionals
Make Your Milwaukee Business Stationery Personal
Personalized stationery gives any letter, greeting card, or invitation a creative touch. As more mail is sent electronically, tangible letters and cards are at risk of becoming outdated. Bring the trend back in full creative force by contacting Ries Graphics, your Wisconsin stationery printing professionals. We print professional and personal stationery to meet your correspondence needs. Our fresh ideas and original designs keep clients coming back, as our custom-printed stationery is not your typical snail mail.
Ries Graphics Creates Stationery for All Uses
Stationery falls under several categories in printing material, as any form of paper mail can be specially designed to our clients' needs. Our Wisconsin paper creatives provide an array of color options, fitting any size or quality of paper. G7 certified, we are able to print with an incredible array of colors thanks to our wide variety of ink and paper colors.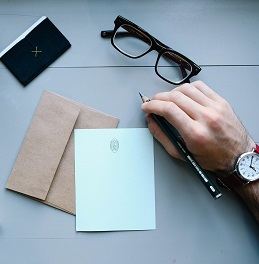 Ries' stationery designs can be printed on any of the following, including:
Writing pads
Corporate documents
Personal letter paper
Envelope fronts and flaps
Legal documents
Greeting/Thank You cards
Business letter paper
Special Designs for Any Occasion
Our custom-made stationery experts work with any design and any budget, producing beautiful printed paper for anyone who walks through our door. Letterheads, borders, seals, and stamps make any form of correspondence unique and irresistible to open.
Consider these ideas to jumpstart your custom design:
Animals
Seasons/Holidays
Flowers/Nature
Business logo
Chevron/polka dots/swirls, etc.
Food
Music
Weather
Impress Your Pen Pal with Quality Stationery from Ries
Whether you're penning a letter to your best friend, or sending out thank you cards, expect the best from your Milwaukee area printing press professionals. With affordable prices and quick turn-around time, we offer the best services in the industry.