Finishing Services Provided by Wisconsin Print Company
Ries Graphics Displays Your Company in the Best Light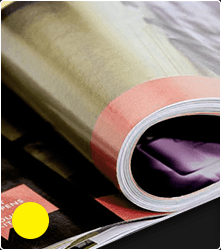 Once the ink is on the paper, most printing companies say the printing service is complete. Our finishing services will set your prints apart from your competition, showing current and potential customers your company is the best around for a reason. Adding those special finishing touches will make your print stand out, drawing in more customers and increasing your profits. At Ries Graphics, we're with you from the start to the end of your printing project needs.

Finishing Services Completed by Ries Graphics
Whether you're printing a complete catalog or little leaflet with us, our finishing services complete the job. Most printing companies will hastily print your products then ship them back to you, leaving you to fold every flyer by hand. This is where our full printing service stands out from the competition.
Ries Graphics help you figure out your best options for folding leaflets, binding catalogs and laminating posters or other services depending on your unique printing project. You won't have to worry about loose papers or unorganized pages anymore. Everything will be put in its place with Ries Graphics.
Finishing Options
Listed below are a few finishing services we offer. Don't see the service you need? Call one of our trained sales representatives if you have any questions about our custom finishing jobs.
Ries Graphics wants your printing process to be as smooth as possible. When you need your printing job done right, with a high attention to quality, contact the talented team of professional printers at Ries Graphics.
Request a free quote for your custom printing order today from Wisconsin's leading printing company of Ries Graphics.