Plastic Coil Binding Service
Plastic Coil Binding or Spiral Binding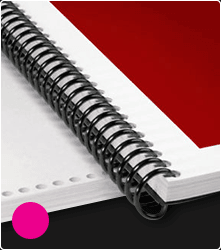 Plastic coil binding is also referred to as spiral binding or coil binding. Ries Graphics has the professional staff and machinery to complete jobs of many different sizes on schedule and on budget. With our stand out certifications and expert staff, every project we complete and ship will be held to the highest standards.
Choose from different coil colors to make your coil binding truly unique. Whether your coil bound piece is thick or thin, Ries Graphics has the ability to create the exact coil to accommodate your needs.

What Are Plastic Coil Bindings Used For?
Some of the uses our customers have told us they used our plastic coil bindings for include:
Documents
Presentations
Reports
Catalogs
Booklets
Notebooks
Manuals
Teachers Aids
Music Books
Plastic coil binding creates durable, strong, and eye catching products. Plastic coil binding allows your book to lay open when you read while performing other tasks.
Printing Service Driven By Deadlines and Low Pricing
Using the plastic coil binding allows you to put a professional spin on your documents. Whether you're using it for your manual or need catalogs printed, Ries Graphics lives up to the challenge. Our printing company prides itself on delivering what your order by the agreed upon deadline.
Contact one of our staff members today to set up your account online. From there you can upload your printing document online, straight to our file sharing site. We simply download the file, create a proof (if requested), then print and ship the final products back to you. From the inception of your project to crimping the last coil, Ries Graphics wants the printing process to be as simple and convenient as possible for you.