Stitched Book Bindings Hold Strong
Dependable Printing Services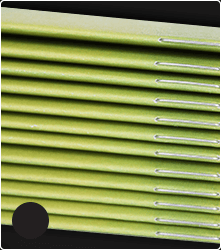 When you need print materials to hand out at your next workshop, seminar or trade show, Ries Graphics has the perfect option. Our stitched books can help your company stand out and spread your message to potential customers. Stitched books create the perfect professional look for any multipage document you need printed, generally consisting of 8 to 100 pages.
Professionally bound stitched books wheather self-cover or plus-cover, can represent what you have to offer without saying a word. Whether you have a vision for the precise dimensions and styling of a saddle stitched booklet or are in need of a brief tutorial on what your binding options are, contact Ries and we'll help you figure out your options.
With Ries Graphics deadline and detail orientated staff, your materials will reach your business by the deadline we agreed upon. Order from us today and find out why our regular customers no longer have to worry about their prints being late.

Stitched Books Used For:
Booklets
Workbooks
Brochures
Catalogs
Programs
Promotional Books
Tradeshows
Variations for stitched books include saddle stitch, side stitch or corner stitch. The above are just some of the more popular projects our customers use our stitched book printing services.
What Is Stitched or Wire Bookbinding
The most common form of stitching or wire binding is saddle stitching. A saddle stitched book is collated in nested signatures, with or without a cover and wire bound through the spine with staples, known as stitches.
A side stitched book has no spine it is loose sheets collated together and stapled through the side from the top to the bottom, usually with 2 or 3 staples.
A corner stitched book is the same as a side stitched book except that it has a staple in one corner rather than 2 or 3 staples on the side.
Self-cover Vs Plus Cover Stitched Books
A saddle stitched book that has a cover with the same paper as the body is known as a" self-cover" book. A saddle stitched book with a cover paper that is different than the body is called a "plus cover" book.